Nearly thirty years ago, Indiana produced two stand-out high schools talents, Alan Henderson and Glenn Robinson, Jr., whose basketball careers followed very similar paths. Henderson and Robinson were both All-Americans, top contenders for the state high school MVP title, Mr. Basketball, and led both their teams to a match-up for the Indiana state finals. While many newspapers discussed their individual journeys and on-court battles, the Indianapolis Recorder often compared their personal merits, leading to a discussion in the newspaper over what it meant to be a student-athlete, role model, and worthy of the state's highest sports awards. The Recorder held Henderson up as the ideal student-athlete who did not receive the acclaim of his rival but should have, while diminishing Robinson's awards and championships due to ongoing academic struggles.
The Indianapolis Recorder is the longest running African American newspaper in Indianapolis: it was first published in 1896 and is still running today. It also is one of the rare contemporary newspapers in Hoosier State Chronicles, giving us a unique insight into current relevant issues. Although the focus of the newspaper was general news stories that affected the black community of Indianapolis, it often became a source for African American news throughout the entire state, including sports.
Henderson was born in Morgantown, West Virginia, but his family eventually moved to Indianapolis. He attended Brebeuf Jesuit Preparatory School, a Catholic high school with high academic standards on the North Side of Indianapolis. He made his first appearance in the Recorder during his sophomore year of high school in a sectional win over Ben Davis High School, where he led his team with 25 points and 16 rebounds.[i] The team lost the Regional finals the next week to the Lawrence North Wildcats, led by standout Eric Montross.[ii] While Henderson received only a scant mention in his junior season, a 1990 article in the Recorder covered his accomplishments and the expectations of his family going into his senior season:
His parents placed a high priority on his academic success: basketball came second. His father was a former football player for Marshall University and was drafted by the Baltimore Colts but also became an accomplished cardiologist and, as he stated in the article, 'I expect great things out of him intellectually. . . I feel he can do a lot more in life than entertain.'[iii]
For his part, Henderson excelled both in the classroom and on the court. Not only did he maintain a "3.7 grade point average" and "a Scholastic Aptitude Test score of better than 1300," but he was an impressive player for Brebeuf. Playing a combination of power forward and center, the 6'9" Henderson averaged nearly 30 points a game his senior year. At that point, he was a contender for Mr. Basketball, the highest individual award in men's high school basketball in Indiana. He signed with Indiana University over other powerhouse programs like Georgetown, Duke, and Purdue. In addition to his size and rebounding prowess, Henderson's extraordinary scoring ability pushed him above Indianapolis greats Oscar Robertson and George McGinnis for the Marion County All-Time points record: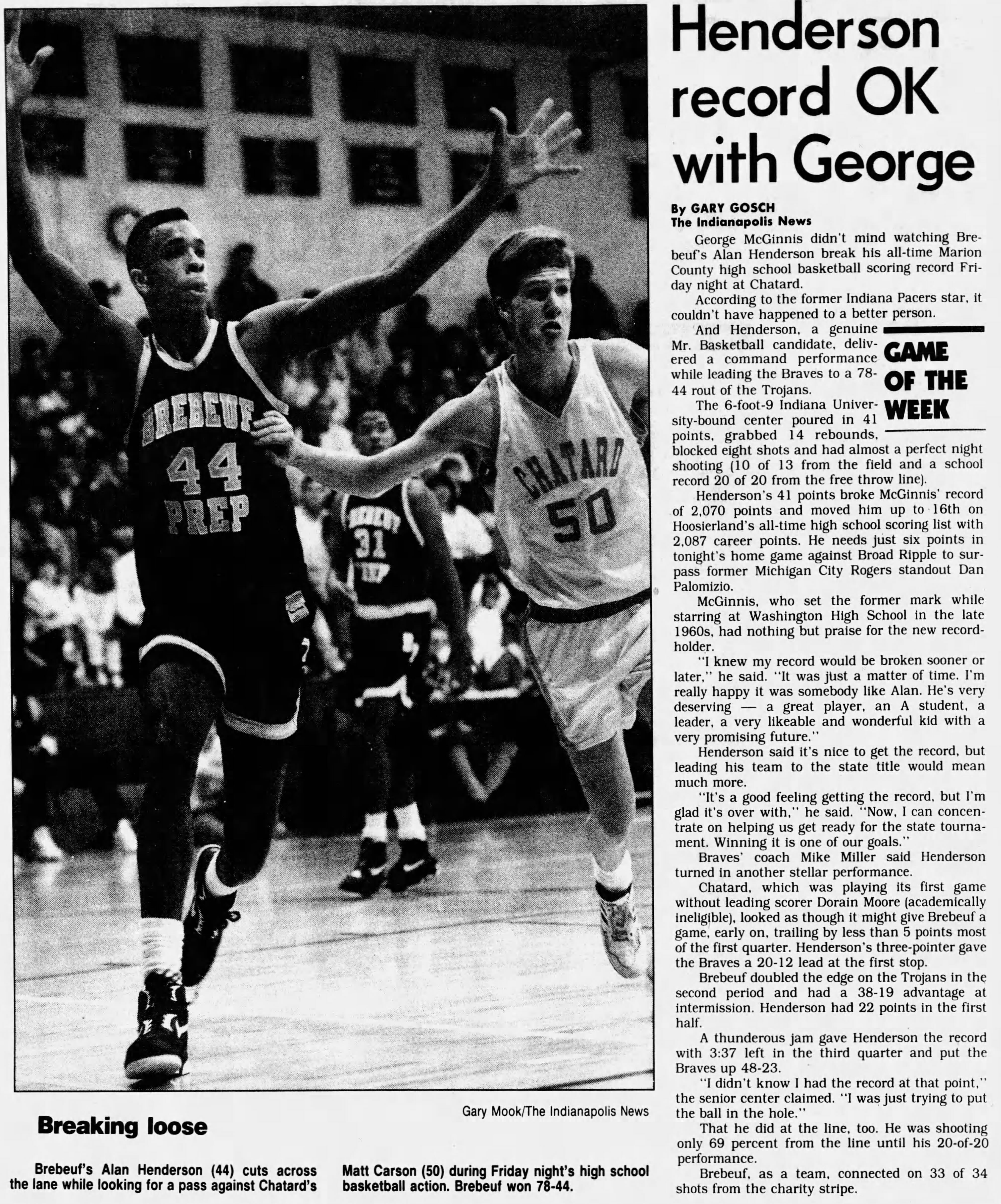 The Recorder, unlike many larger Indiana papers, rarely devoted extensive coverage to a specific high school team or player. However, they occasionally reported on prominent games throughout Henderson's senior season, including another hyped sectional matchup with Ben Davis, which Brebeuf won in overtime. Three weeks later, wins over Shelbyville and Terre Haute South sent the team to the state championship. Despite a leg injury in the tournament, Henderson was ready to compete. With the state title and Henderson's title of Mr. Basketball on the line, Brebeuf faced the all-black Gary Roosevelt High School and their own potential Mr. Basketball, Glenn Robinson, Jr.
Robinson took a much different path to a state title. Born in Gary, Robinson grew up without the advantages Henderson enjoyed. His father was absent for his entire childhood, leaving Robinson to be raised by his mother Christine Bridgeman. [iv] Robinson was a hard worker, taking on jobs throughout high school and during his time at Purdue, where he worked as a welder during the summers. One Indianapolis Star article from 1991 detailed his development in Gary, Indiana, from establishing his basketball skills on the playgrounds of the city to his preparations for college: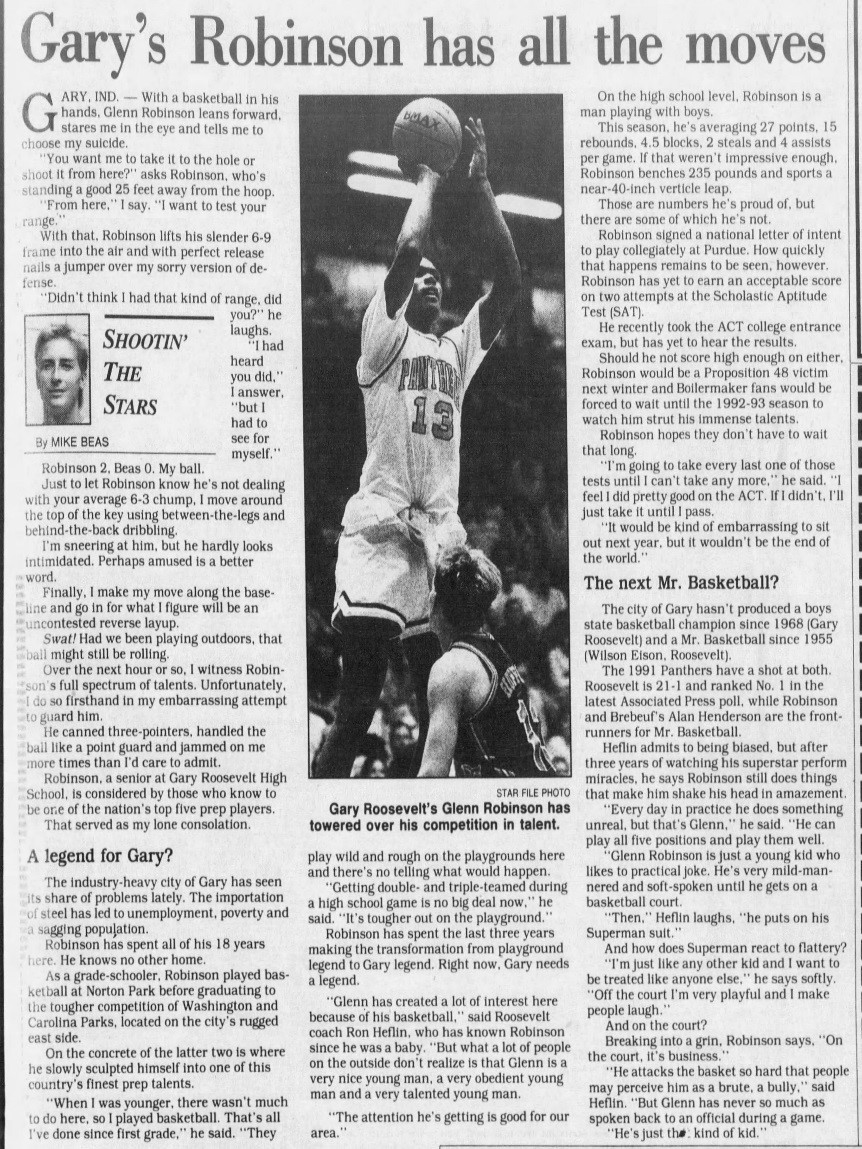 According to the article, Robinson was talented and beloved in Gary, but struggled academically, which may have hurt his future basketball career.
One LA Times article discussed an interaction between Robinson, his mother, and Robinson's Gary Roosevelt coach, Ron Heflin. Despite Robinson's struggles in school, the article highlights the support (and tough love) provided by his mother:
When Robinson struggled with his grades as a Roosevelt sophomore, (Christine) Bridgeman stormed into Heflin's office, son in tow, and vowed to pull him off the team if his marks didn't improve. The fiery woman, no taller than 5-6 or so, pointed a finger in her son's face.

"Do you understand that?" she said.

"Yes, ma'am," Robinson said meekly.

The grades improved.[v]
In the Plaiss and Plaiss book focusing on the 1990-1991 Indiana high school basketball season, entitled The Road to Indianapolis, Heflin discusses the reasons for Robinson's academic issues:
"Glenn was fine academically," Heflin said, "until later last year. His grades began falling then. And that was because of too much emphasis on basketball. He was spreading himself too thin. He was playing on two AAU teams and was readying himself for an exhibition game against the Russians. He didn't miss any school, but when he did try to study, he was too tired. He's got the head for it, he just needs to apply it to books as well as ball."[vi]
Robinson first appeared in the Indianapolis Recorder in 1990, during his junior year. The Gary Roosevelt team had been successful both his freshmen and sophomore years, but was ranked third in the state in the Associated Press poll of Indiana men's high school teams for his junior season. Unfortunately, a loss to Anderson that year in the state semi-finals dashed a run to the championship game. This led to Robinson's senior season, where the deep Gary Roosevelt team was ranked first in the state, (bolstered by several talented returning teammates), and Robinson was one of the top college prospects in his class. Like Henderson, Robinson was recruited heavily by in-state rivals IU and Purdue, but, by November, Robinson chose to play for Purdue.
Despite the success of Gary Roosevelt and Robinson, their next appearance in the Recorder was their first loss to another highly ranked team, the Martinsville Artisans, on January 5, 1991.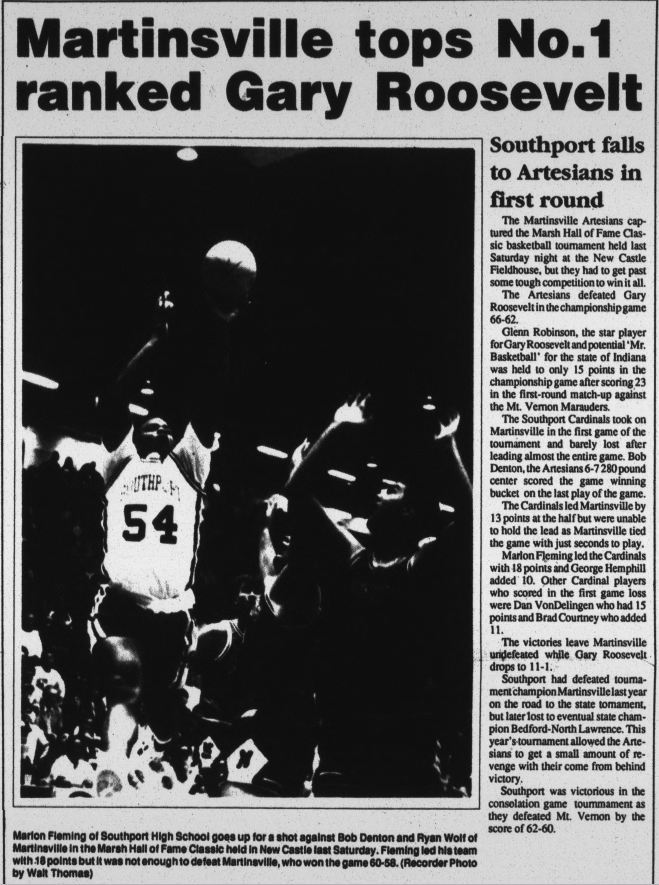 While this was a difficult loss for the team, it would also be their last of the regular season. Gary entered the final four with a 29-1 record against some of the best competition in the state. After their win over Whitko High School, the stage was set for two of the top players in Indiana on the two best teams in the state to face off.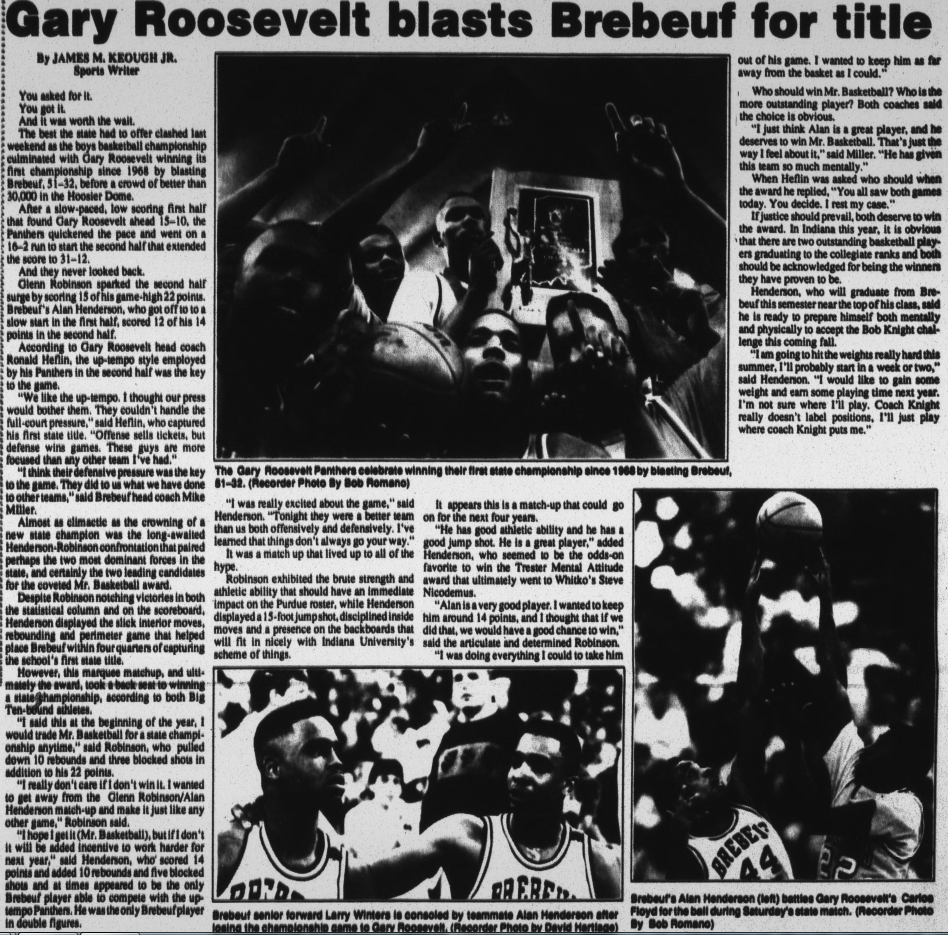 Despite a low-scoring first half, Gary Roosevelt ran away with the championship in a 51-32 win over Brebeuf. Robinson outscored Henderson 22 to 14, and was lauded in the Recorder for his performance. When it came time for Mr. Basketball to be named, opinions were split amongst different newspapers, but it was apparent that the state finals played a central part in the voting. David Kasey of the Kokomo Tribune noted that the Indianapolis Star had "only received 15 percent of the ballots by Friday," six days before the deadline and one day before the end of the state tournament.[vii] One popular idea in many papers was that Robinson and Henderson should split the award as co- Mr. Basketball, but when April 7 approached, the Indianapolis Star announced Glenn Robinson, Jr. as the sole winner for 1991.
Indianapolis Recorder sports writer Jim Nelson was strongly in favor of the Indianapolis local, Henderson, winning the award. Nelson called out the low voting numbers between the 1991 Mr. Basketball award between Robinson and Henderson compared to votes the year before between two white players, Eric Montross and Bedford-North Lawrence's Damon Bailey, Henderson's future teammate at IU.[viii] The other issue Nelson highlighted was that most of the votes were placed following the state tournament, a single game that Nelson stated reflected unfairly on Henderson, whom he determined to have carried a larger load to the state championship than Robinson did in Gary. It is notable that Robinson winning Mr. Basketball was only mentioned in a commentary about why Henderson was more deserving of the award, and that the byline featuring this was significantly smaller than the headline of Henderson being named the Recorder Player of the Year: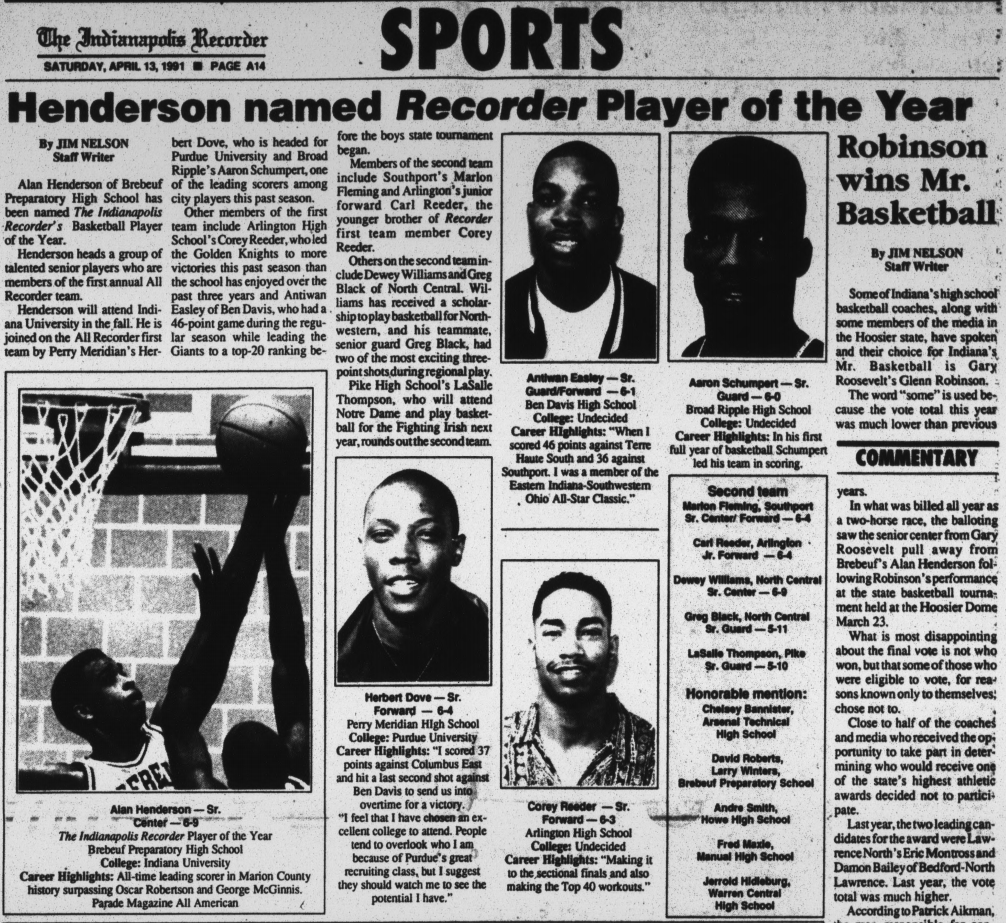 While the title Mr. Basketball was important, the motivation to succeed on the court outweighed accolades.  Following his state championship victory, Robinson stated in a press conference: "I did not care about winning Mr. Basketball… I would have traded Mr. Basketball to win the state championship."[ix] Henderson also commented on the contest for the award: "Hopefully I'll get Mr. Basketball… But if I don't it'll give me more incentive to work harder."[x]
Despite the anticipated carry-over between the Henderson and Robinson rivalry at IU and Purdue, this did not take place their freshman year. [xi]  Robinson's SAT and ACT scores ruled him ineligible to play his first season at Purdue under Proposition 48, an NCAA rule regulating minimum student academic requirements for student athletes. Recorder reporter Nelson argued in a July 13th column, following Robinson being declared ineligible, that high schools should bear the responsibility for the failure of student athletes like Robinson to qualify academically for college sports.  He believed that high schools should address the problem before the students head on to college where they then are immediately declared ineligible. Nelson promoted the idea that high school teams be penalized the next year if their graduating players failed to pass college requirements. He argued that this solution would change the system, especially if an upcoming star player had to sit out for a year "because a history teacher did a poor job of educating last year's Mr. Basketball."
Following Nelson's criticism of Robinson in the summer of 1991, he took an obvious parting shot at the end of the season to both Robinson and Steve Nicodemus, then playing for Michigan State, for underwhelming contributions to their programs while Henderson was praised for his successful first year at Indiana University.[xii] Then, in July of 1992, an article entitled "Black athletes often unprepared for the classroom of life," the first of a three part series on African American athletes, Nelson again compares the academic success of Henderson with Robinson:
Robinson, who was voted Indiana's Mr. Basketball award in 1991, just barely failed to meet the NCAA qualifying mark and had to sit out his first year at Purdue. Henderson nearly doubled the NCAA qualifying standard for freshmen on the Scholastic Aptitude Test for athletic participation, and went on to have an outstanding freshman year at IU, both on the court and in the classroom.[xiii]
Henderson was extremely successful at IU. Playing with a talented roster, the team made it to the NCAA Final Four in his freshman season, (faltering only after an injury to Henderson ended his tournament run), and finished in the top eight and sixteen of the tournament over the next two seasons, respectively. He was an immediate contributor to the team, starting nearly every game his freshman and sophomore years, but did not become a leader of the team until National Player of the Year Calbert Cheaney graduated after Henderson's sophomore year.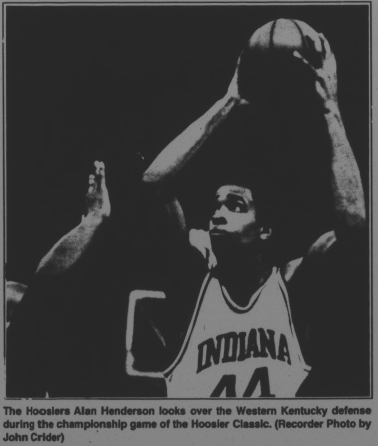 Robinson, meanwhile, made up for missing his freshman season in a hurry with a tremendous sophomore campaign, averaging over 24 points and 9 rebounds, and helping Purdue to earn a berth in the NCAA tournament. By his junior year, he improved to over 30 points a game and 10 rebounds while leading his team to a 29-5 record in the regular season. The team was ranked first in their region for the NCAA tournament, and advanced to the Elite Eight that year. Robinson's individual efforts earned him the National Player of the Year award (the first Purdue player since its namesake, Indiana-born John R. Wooden) and the Naismith Award, along with several other accolades. Known as "The Big Dog," Robinson was considered the top college player in the country and declared for the 1994 NBA Draft, where he was selected first overall by the Milwaukee Bucks.
Despite Nelson's criticism of Robinson in previous issues of the Indianapolis Recorder, sports writer James M. Keough, Jr., who covered the Brebeuf vs. Roosevelt game, wrote several positive articles on Robinson leading up to and following the draft, including a feature on Robinson following his selection: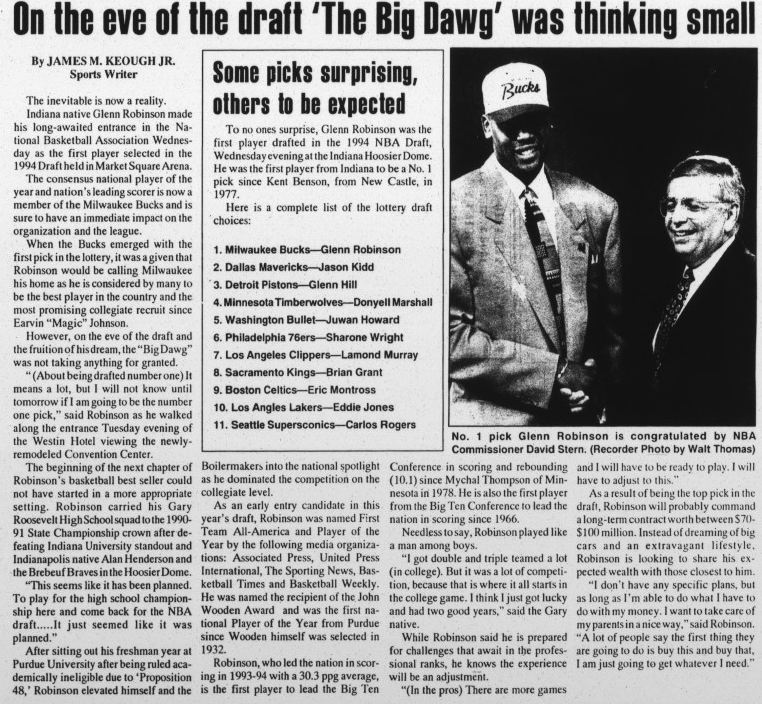 Henderson, meanwhile, waited one more year to graduate from IU. By his senior season, Henderson was amongst the greatest statistical leaders in Indiana University history and led his team to the NCAA tournament, but they failed to advance past the first round. His success in the classroom was also impressive, graduating in 1995 with a degree in Biology and was offered admittance to Indiana University medical school. A month later, he was drafted 16th overall in the first round of the NBA draft by the Atlanta Hawks. The Recorder also featured Henderson's draft process on July 1 of 1995:
Both players went on to long careers in the NBA. Robinson was a star for the Milwaukee Bucks over eight seasons, signing the largest rookie contract in NBA history and earning NBA Rookie First-Team recognition. Though he was only able to lead the team to the Eastern Conference Finals, he eventually won a championship during his final season in 2005 with the San Antonio Spurs, following stints in Atlanta and Philadelphia. Henderson also spent eight seasons with the team that drafted him, the Atlanta Hawks, and won the Most Improved Player award during the 1997-1998 season. He and Robinson were briefly teammates in Atlanta during the 2002-2003 season before both were traded over the next two years. Henderson played for Dallas, Cleveland, and Philadelphia before retiring in 2007.
While the Recorder occasionally mentioned Robinson during his time in the NBA, it was often his legacy in Indiana or in games against the Pacers. Henderson, however, was mentioned frequently in his rookie season and over the next decade for his work with youth basketball camps in Indianapolis with his former high school, Brebeuf.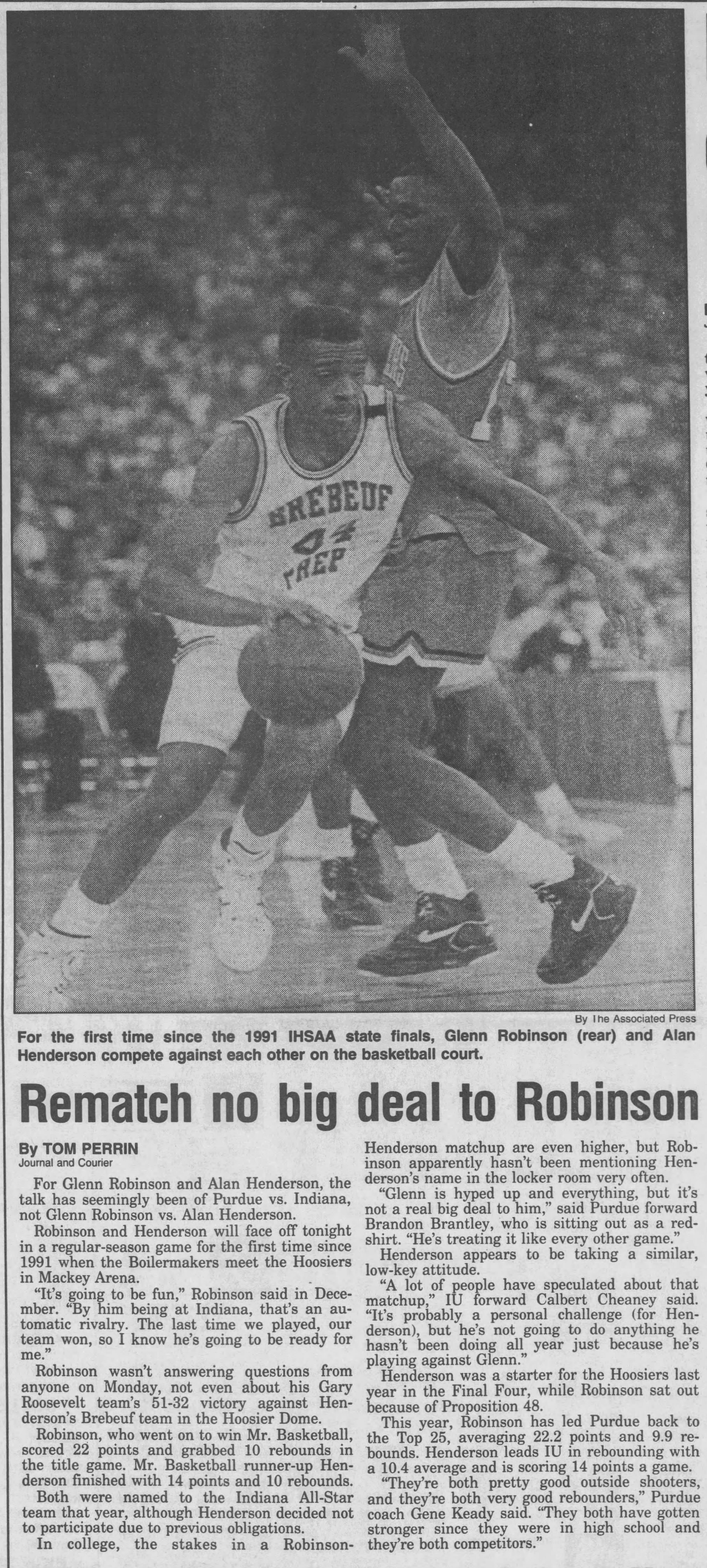 Henderson and Robinson seemed to be competitors, but bore no ill-will towards each other. Robinson, in an interview with the Munster Times following the trade to Atlanta, stated that he and Henderson were on good terms:
Now I can play with my 'Indiana' buddy, Alan Henderson… I'm an Indiana guy too. It's not always been Alan Henderson against Glenn Robinson. We don't hate each other. In fact, me and Alan talked in high school about maybe playing together at Purdue. That's a national championship team if there ever was one.[xiv]
In 2017, both players were inducted into the Indiana Basketball Hall of Fame. Robinson again gave credit to his former "rival" in an interview with the Northwest Indiana Times:
"History just keeps bringing us together," Robinson said. "We've always been everywhere together. The state game. McDonald's All-American game. The Indiana-Kentucky games. College then the NBA. It's great that we're coming back together one more time like this."
Despite the perceived rivalry between the two competitors, each seemed to represent different things within the pages of the Recorder. Henderson was heralded for his academic record and accomplished college career, but never received the same basketball accolades as Robinson. Robinson, meanwhile, was an elite talent who rose from a challenging background to stardom, which also made him an easier target for individuals critical of the 'athletics over academic success' mindset. Despite this, each deserves recognition for their long history of success in all levels of basketball, and as a classic representation of Indiana basketball.
[i] "Wildcats Beat Cathedral to Advance," Indianapolis Recorder, March 11, 1989, p. 17. Hoosier State Chronicles.
[ii] Montross was a highly recruited high school player (Newspapers.com subscription required) whose Lawrence North team won the state championship the next year in 1989. He later played for the University of North Carolina at Chapel Hill for four seasons, and was drafted 9th overall in the 1994 NBA draft.
[iii] "Family, success and basketball," Indianapolis Recorder, November 17, 1990, p. 17. Hoosier State Chronicles.
[iv] An article released by the LA Times in February of 1994 details the relationship between Robinson, his parents, and his high school coach.
[v] Wojciechowski, Gene. "Like Father, Not Like Son: Purdue's Glenn Robinson Stays on Right Side of the Street as He Dominates the College Game," LA Times, February 5, 1994. Accessed via LA Times website, https://www.latimes.com/archives/la-xpm-1994-02-05-sp-19287-story.html
[vi] Plaiss, Mark and Mike Plaiss. The Road to Indianapolis: Inside A Season of Indiana High School Basketball. Chicago: Bonus Books, Inc., 1991, p. 8.
[vii] "Robinson was a big winner" from The Kokomo Tribune, March 25, 1991, p 14. Accessed via Newspapers.com, https://www.newspapers.com/image/2449697/
[viii] Aside from the title of Mr. Basketball, Henderson was also in contention for the Arthur L. Trester award for "mental attitude, scholarship, leadership and athletic ability in basketball." Despite his strong record of scholarship, sportsmanship, and athletic prowess, the award in 1991 was presented to Whitko's Steve Nicodemus prior to the state championship. Jim Nelson's commentary on March 30th argued that Henderson and his teammate Otis Gordon were far more deserving academically than Nicodemus. Additionally, he noted that only three African American players had ever received the award, which has been handed out annually since 1916, and suggested that a racial component played a part in the omissions.
[ix] Plaiss and Plaiss, p. 155
[x] Ibid, p. 156
[xi] A planned team-up of Henderson and Robinson over the summer of 1991 did not take place. Both players were scheduled to represent the state on the same team in the annual Indiana-Kentucky All-Star High School game, but Henderson chose not to compete due to prior commitments. According to the June 22, 1991 issue of the Kokomo Tribune, Henderson was forced by the All-Star committee to choose between playing in the All-Star game and speaking at a regional conference for the Jack & Jill of America organization, an African American organization Henderson was affiliated with since his freshman year of high school. Henderson chose to attend the conference rather than competing in the game.
[xii] "Finally, March Madness is Over" Indianapolis Recorder, April 11, 1992. Hoosier State Chronicles
[xiii] Indianapolis Recorder, July 25, 1992, p. 18. Hoosier State Chronicles.
[xiv] "'Big Dog' ready for a new chapter" The Times (Munster), August 4, 2002, p.1 From Newspapers.com. https://www.newspapers.com/image/304603617/
Header Photo by Mike Fender of the Indianapolis Star.
Story: https://www.indystar.com/story/sports/high-school/2016/12/06/robinson-henderson-inducted-into-indiana-hall-fame-1st-year-eligibility/95020088/
Original image from Gannett: https://www.gannett-cdn.com/-mm-/c8dc096d68fffb477a951d6caa48153f1a252deb/c=0-0-1194-1592/local/-/media/2016/12/05/INGroup/Indianapolis/636165622199008196-runnerup-06.JPG?width=534&height=712&fit=crop