Indiana's long and rich history of newspaper publishing produced not only major papers of record but also some of the more obscure and oddly-named titles. For example, Hoosier State Chronicles, the state's historic digital newspaper program, has digitized such titles as the New Albany Microscope and General Advertiser, the Danville Butcher-Knife, and Smithville's iconic newspaper, Name It & Take It! Yet, one obscure title lingers in the Hoosier imagination more than any other and it likely did not even exist: Rushville's Dog Fennel Gazette.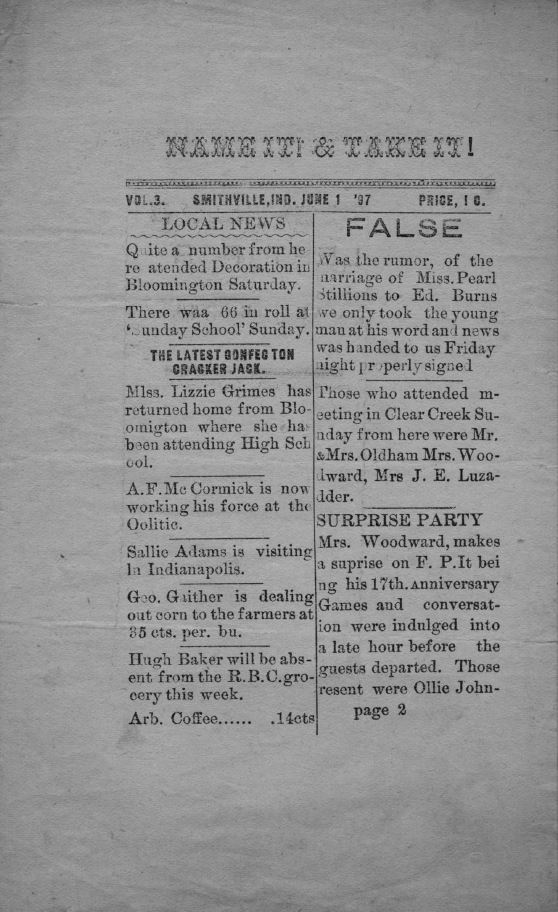 The story of the Dog Fennel Gazette is much like any other tall tale. It emerged out of the wildness of Indiana's early years as a state (1820s) and it continued to be repeated without skepticism for much of the state's history. According to legend, printer William D. M. Wickham published the weekly newspaper in Rushville starting in either 1822 or 1823, and utilized a peculiar printing schedule. Historian Fred Cavinder noted that the paper was "published on one side of the page and sent to subscribers, who read it and returned it to the publisher so the next edition could be printed on the other side."[1] The apocryphal journal of record received a huge boost of credibility after John Arnold included the story, as fact, in his history of Rush County. It was oft reprinted in other histories and journals, even appearing in a Pulitzer-Prize winning book on the Northwest Territory. During decades of spreading the tale, very few ever questioned it.
Despite many years of tacit acceptance of the story, an undercurrent of scholarship emerged that challenged the well-entrenched narrative. John W. Miller, in his Indiana Newspaper Bibliography, argued "the existence of this paper is highly questionable."[2] Historians Winifred Gregory also did not include the Gazette in her omnibus of American newspaper titles. However, the scholar who put the nail in the coffin for this myth was communications scholar Fredric Brewer in his 1993 article for the Indiana Magazine of History. In "Rushville's Dog Fennel Gazette: Indiana's Mythical Newspaper," Brewer carefully examined the claims of the paper's existence and came to a resounding conclusion: there was no Dog Fennel Gazette. As he noted, "no acknowledgement of the Dog Fennel's founding appears in any of the extant issues of the Indiana, Kentucky, or western Ohio sheets that would have been contemporary. The simple reason the Dog Fennel earned neither a citation nor a welcome is because they newspaper never existed, probably not even as a proposal."[3]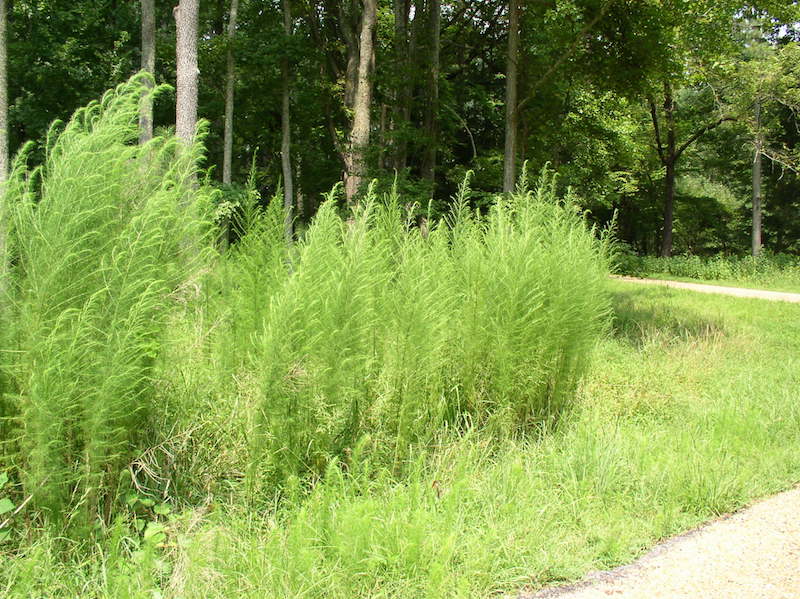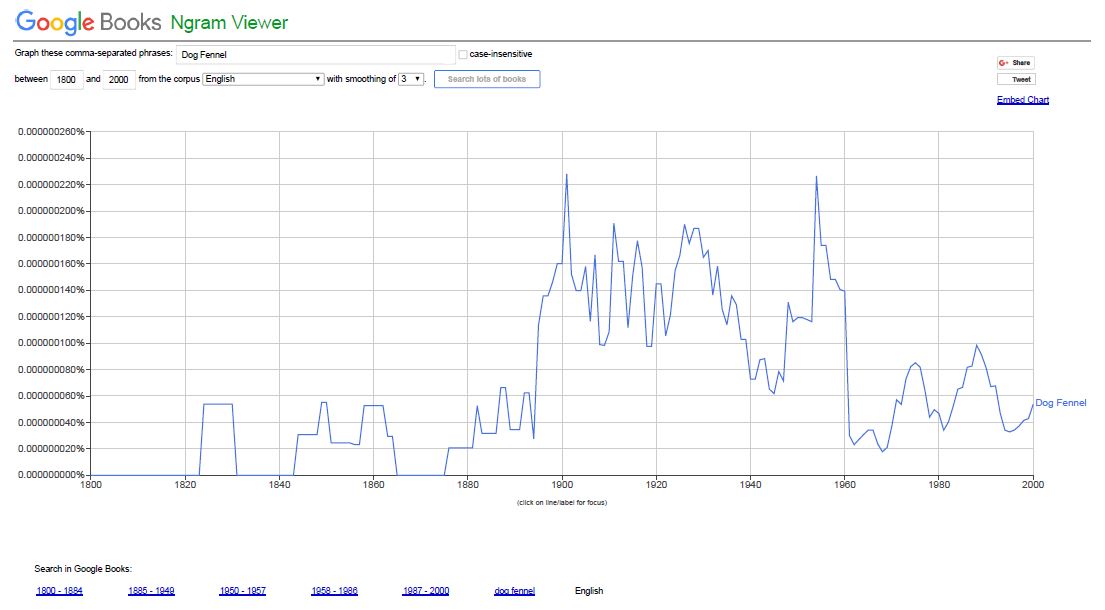 While the Dog Fennel Gazette is not a real newspaper, the term "dog fennel" was used throughout the nineteenth and twentieth centuries. In fact, a Google n-gram analysis of the term "dog fennel" shows peaks of use from the 1820s and '30s, the 1840s to the 1860s, and 1880 well into the 1900s. The term is used most of the time to describe a type of "strong-scented c[h]amomile (Anthemis cotula)" that is colloquially referred to as a weed. Specifically, Frederic G. Cassidy and Joan Houston Hall note in their Dictionary of American Regional English that "dog fennel" is also called "chiggerweed," "stinkweed," and "Johnny-Appleseed's-weed," among others.[4] Hoosier author Booth Tarkington even used this definition in one of his novels. Yet, when one does additional research in digitized newspapers, "dog fennel" is often given another definition, one less descriptive and more judgmental. Throughout the decades of Indiana newspapers in Hoosier State Chronicles and Chronicling America, "dog fennel" is often used as a term of derision, akin to "nasty," "backwater" or "uncivilized." This essay shares some of these findings and indicates places of potential research for any scholar interested in expanding our understanding of this term and its relationship to the Hoosier State.
One of the earliest uses of "dog fennel" in this variety shows up in the Indiana State Sentinel on March 16, 1848. In an editorial about the most-recent state legislative session, the writer decries the passage of over 600 new laws and uses a colorful analogy to demonstrate their superfluity. As the opinionated citizen writes:
"Does an old lady in some dog fennel town [emphasis added] want room for another onion bed, by having an alley adjoining her garden vacated, it is a matter of so much magnitude, that the wisdom of the Legislature must be invoked, and Legislature cannon must loaded to batter down the obstacle!"[5]
It is implied in the editorial that "dog fennel" means a town in the middle of nowhere with little or no importance to the affairs of big-city state legislators. Now, the author did not use the term in a patronizing way; in fact, it was used to differentiate the simpler lives of small town Indiana from the legislator's "grey-bearded wisdom and rampant eloquence." Today, we might use a regionalism like "Podunk" to describe a similar small town.
Clearer indications of this meaning come from two issues of the Sentinel during the 1850s. The first concerns the minister Eli P. Farmer, a Whig candidate for Congress who was essentially called a liar by the Decatur Local Press. The Sentinel, not particularly a fan of Farmer and definitely not a Whig paper, found this accusation beyond the pale and called out the Local Press in an editorial. "What has Eli P. Farmer done to set the whole Whig press yelping at him? And what does the editor of this little dog fennel Gazette know about Eli P. Farmer?," the Sentinel noted.[6] The term "dog fennel gazette" is directly used in this editorial to connote the Local Press's unprofessionalism and sensational nature. A year later, the Sentinel published another editorial calling newspapers like the Winchester Patriot "dog fennel papers."[7] Both references indicate that the term was used among newspaper publishers and editorialists much like the terms "rag" or "yellow papers," indicating the cheap paper and even cheaper reporting. It does not seem like much of a stretch to go from people calling newspapers "dog fennel gazettes" and people actually thinking one existed.
This trend of referring to newspapers as "dog fennel" continued well into the twentieth century. In another editorial from the September 26, 1907 Plymouth Tribune, they called Plymouth Daily Independent publisher C. W. Metsker "unholy" and "a reprobate" and the paper he ran a "dog fennel sheet."[8] This was in reference to Metsker's support of a local interurban company subsidy that would raise local taxes. Plymouth's local government eventually killed the subsidy proposal, likely with some help from the Tribune's continued campaign against Metsker. Between the previous two examples and this one, using "dog fennel" as a pejorative against newspapers appears to have had staying power among newspaper editorialists.
Referring to towns, municipalities, and districts as "dog fennel" continued in newspapers as well. The April 20, 1865 issue of the Plymouth Weekly Democrat republished an editorial from the Buffalo Banner that called the city of Bluffton a "gilt-edged, dog fennel municipality."[9] In 1882, a short blurb in the Indianapolis News reaffirmed that the capital city was not a "dog fennel town," so long as the local authorities enforced the Sunday liquor law.[10] Finally, in a 1916 article in the aforementioned News, two officers were reassigned to patrol what were called "undesirable districts," or "in the police vernacular, the 'dog fennel.'"[11] In each instance, the use of "dog fennel" was with a negative connotation, namely that these towns or districts were uncivilized or even potentially dangerous. Also notice the timeframe for the three articles: there is a consistent use of the vernacular of "dog fennel" for over 60 years.
Three more instances of referring to people as "dog fennel" are also worth note. The Evansville Daily Journal published a piece in 1864 calling a group of anti-Union protesters a "dog fennel militia."[12] In a moment of unintentional, existential reverie, the Crawfordsville Weekly Journal ran a solitary question in their editorial section: "Are you a dog fennel man?"[13] Colonel Robert Ingersoll, noted Republican Party insider and public speaker, referred to the 1888 Democratic presidential ticket of Grover Cleveland and Allen G. Thurman as "dog fennel candidates," meaning that they did not fight on behalf of the union or had sympathies with the copperheads during the Civil War.[14] This meaning is exactly the same as the "dog fennel militia" comment from the Evansville Daily Journal. According to the Greencastle Times, this particular usage of "dog fennel" emerged from another newspaper man, James K. Magie of the Canon, Illinois Register. Magie used it to denounce the Knights of the Golden Circle, an organization of the rebellion that would dig for gold on the outskirts of towns near dog fennel plants. Ingersoll then broadened its definition to apply to anyone who was ambivalent about the cause of the Union or held sympathies with the Confederacy. As with the other usages described throughout this survey, the definition of "dog fennel" varies but its intent to criticize or condemn is consistent.
Evaluating each of these newspaper articles from Chronicling America and Hoosier State Chronicles provides researchers with a new avenue with which to analyze the term "dog fennel" and its usage throughout the nineteenth and twentieth centuries. Not only a term signifying a weed, "dog fennel" became synonymous with a wide array of negative connotations and was used exactly for that purpose. Within this climate, it is conceivable that an idea like "dog fennel gazette" turned it into a supposedly real newspaper, in this case the mythical Dog Fennel Gazette of Rushville. The first step for future researchers on this topic is using Hoosier State Chronicles (hoosierstatechronicles.org) and Chronicling America (chroniclingamerica.loc.gov) to find examples of this usage in other Indiana newspapers as well newspapers from across the country. Finding more instances of this usage in newspapers, as well as letters, books, magazine, and other primary sources, would expand our understanding of midwestern vernacular and its relationship to social, political, and economic life for much of the previous two centuries.
[1] Fred Cavinder, Indiana Book of Records, Firsts, and Fascinating Facts (Bloomington: Indiana University Press, 1985), 129.
[2] John W. Miller, Indiana Newspaper Bibliography (Indianapolis: Indiana Historical Society, 1982), 392.
[3] Fredric Brewer, "Rushville's Dog Fennel Gazette: Indiana's Mythical Newspaper," Indiana Magazine of History Indiana Magazine of History (March 1, 1993), accessed July 26, 2018, IU Scholar Works.
[4] Frederic G. Cassidy and Joan Houston Hall, Dictionary of American Regional English, Volume II: D-H (Cambridge, Massachusetts: Belknap Press of Harvard University Press), 109-110.
[5] "The Last Session," Indiana State Sentinel, March 16, 1848, 2, accessed February 27, 2018, Chronicling America.
[6] "Eli P. Farmer, Indiana State Sentinel, July 10, 1851, 1, accessed February 19, 2018, Chronicling America.
[7] "Where they get their Cue," Indiana State Sentinel, September 9, 1852, 1, April 2, 2018, Chronicling America.
[8] "Against the People Again," Plymouth Democrat, September 26, 1907, 4, accessed February 19, 2018, Chronicling America.
[9] Plymouth Weekly Democrat, April 20, 1865, 1, accessed February 27, 2018, Chronicling America.
[10] Indianapolis News, July 7, 1882, 4, accessed July 27, 2018, Hoosier State Chronicles.
[11] Indianapolis News, September 2, 1916, 1, accessed April 2, 2018, Hoosier State Chronicles
[12] Evansville Daily Journal, October 4, 1864, 2, accessed February 27, 2018, Hoosier State Chronicles.
[13] Crawfordsville Weekly Journal, January 18, 1872, 2, accessed February 27, 2018, Hoosier State Chronicles.
[14] Greencastle Times, July 19, 1888, 6, accessed February 27, 2018, Hoosier State Chronicles.