Indiana's contribution to the "Golden Age of Freethought" during the late nineteenth century has been covered by previous blogs for the Indiana Historical Bureau; in particular, iconoclastic author Ambrose Bierce, the Vonnegut's, and Robert Ingersoll and Lew Wallace's "legendary train ride." This blog covers another another Hoosier freethinker, W. H. LaMaster. His freethought newspaper, the Iconoclast, became a staple of Indianapolis thought through the 1880s and he continued his column writing until his death in 1908. LaMaster advocated for religious skepticism, scientific advancement, and was a staunch anti-temperance advocate. LaMaster, alongside notable freethinkers like Ambrose Bierce, Clemens Vonnegut, and Robert Ingersoll, helps us understand the rich religious diversity in the Midwest during the late nineteenth century.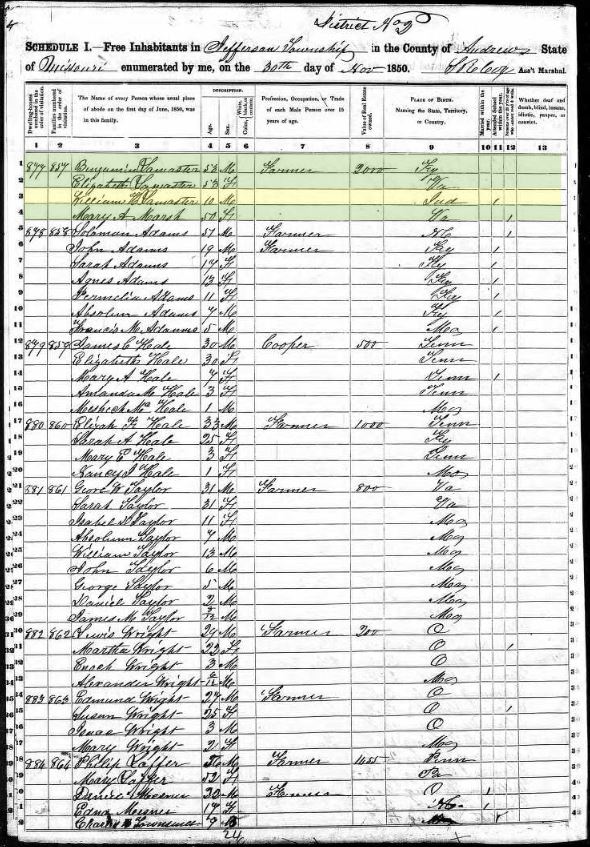 William Hammon LaMaster was born on February 14, 1841 in Shelbyville, Indiana, to Benjamin and Elizabeth LaMaster. His early life is mostly unknown to us, but we do know that he lived for a time in Missouri on the family farm, according to the US Census. From there, LaMaster served for the Union army during the Civil War, serving in the 89th Indiana Infantry and the 146th Indiana Infantry. After the war, he returned home to Shelbyville (and later Liberty), passed the bar exam, and began his law practice. As early as 1868, he was beginning to make a splash within Republican Party circles. As the Daily Ohio Statesman reported, LaMaster was a "rising young lawyer of that city [Shelbyville, Indiana], a gentleman and a scholar, and hitherto was the main hub in the Republican Party in that county. He was in the war, and bears honorable scars." In 1868, he advertised his law practice in the Connersville Examiner, and described his credentials as "Attorney at Law, and Deputy Common Pleas Prosecutor. Will practice in the Courts of Union and Fayette Counties."

Also in 1868, LaMaster began writing a regular newspaper column writing for the Connersville Examiner called "Liberty Items." In it he shared his thoughts on local happenings in Liberty Township, Union County, Indiana. In personal affairs, he married Harriet Reed on December 26, 1866, with the usual proceedings of a "Minister of Gospel," as described on their marriage record. LaMaster's iconoclastic views  had not yet bubbled to the surface, at least with regards to his nuptials.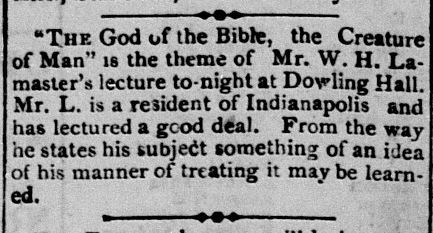 From there, LaMaster's story is unclear until the late 1870s, when his religious skepticism was in full force. While LaMaster's evolution into a freethinker is of great importance, it is outside of the scope of this initial post. By May 1879, his public life as a freethinker was evident in a lecture entitled "The God of the Bible" that he delivered at Terre Haute's Dowling Hall. The Terre Haute Weekly Gazette described, "From the way he states his subject something of an idea of his manner of treating it may be learned." Unfortunately, research has yet to uncover the text of this lecture. However, an advertisement published in an 1884 issue of the Index suggests that it might have been akin to known-agnostic Robert Ingersoll's critical lecture, Some Mistakes of Moses.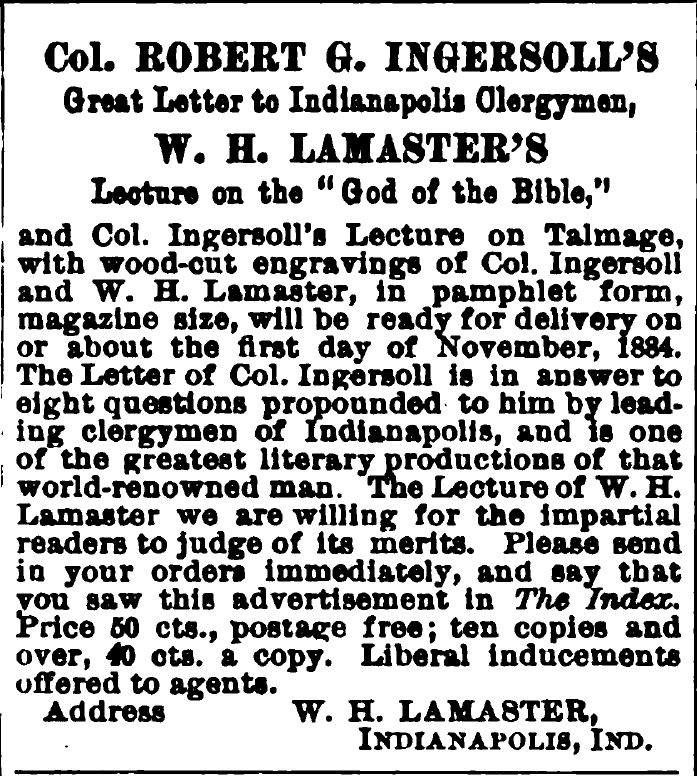 Later that year, LaMaster published an investigative piece in the Indianapolis People critical of spiritualism and spirit mediums. LaMaster wrote:
Being a skeptic, so far as spiritualism is concerned in any form, whether manifested through ignorant mediums or otherwise, I must say that I saw nothing on my late experience among spirits in Terre Haute to convince me of the truth of modern spiritualism.
LaMaster's expose criticized local mediums Anna Stewart, Laura Morgan, and the ever-popular Dr. Allen Pence, concluding rather jokingly that "in the future I shall try very hard to steer clear of the 'loving and affectionate' embraces, or even the touch, of such familiar creatures as ghosts."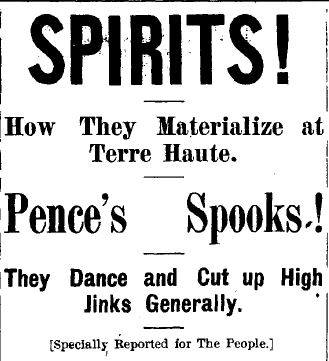 When LaMaster was not debunking spiritualism in Terre Haute, he was trying to debunk another popular notion during the period: temperance. The movement, which called for either the curtailing or elimination of alcohol consumption, gained steam during the late nineteenth century. LaMaster viewed the movement as he did most creeds—as an overzealous, dogmatic group who wanted to control people's lives. He did not parse words when he wrote in the Indianapolis People that the first temperance lecturer was the Devil, who "taught a very remote grandmother of ours the art of using, in a very temperate manner, a certain kind of 'fruit,' to her 'mental' advantage, before any wicked distiller ever thought of solving the difficult problem, how to convert its juice into intoxicating beverages." Now, it is important to clarify LaMaster's personal view; while he supported any individual or personal efforts to be temperate with drink, he was opposed to using laws to move people in that direction, a distinction the Indianapolis News made sure to print.
In the summer of 1879, LaMaster gave an anti-temperance lecture at Indianapolis's Grand Opera House, where he criticized the "intemperance of temperance orators and temperance people." He gave another anti-temperance lecture in Lebanon, Indiana in November, where a correspondent to the Indianapolis Journal of Freedom and Right criticized LaMaster's "shot gun principle" of oratory. The critic concluded, "I would advise him to quit lecturing as it is certainly not his fort [sic]." Nevertheless, LaMaster continued to criticize temperance reforms and reformers in the press, specifically his problems with the 1895 Nicholson Law, which "provided that all persons applying for a license had to specifically describe the room in which he, she or they desired to sell liquors along with the exact location of the same." LaMaster believed the law was not "in the interest of temperance" but was rather "a measure to increase liquor drinking and drunkenness in our state."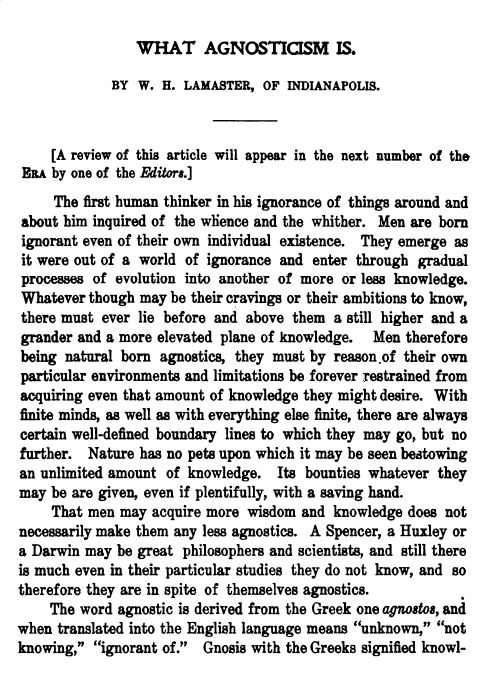 While temperance was one of LaMaster's political hobby horses, his dedication to freethought and secularism was his main contribution to the growing diversity of Indiana's religious thought during the late nineteenth century. In an 1898 article for the Improvement Era, "What Agnosticism Is?," LaMaster outlined his own view regarding theological matters. He wrote:
Agnosticism as an applied theory or doctrine may therefore be said to be one which neither asserts nor denies the existence of the infinite, the absolute. Or, it may be defined as a "theory of the unknowable which assumes its most definite form in the denial of the possibility of any knowledge of God." And so the agnostic may be said to be one who does not claim or profess to know of the existence of a supreme being called God.

Biologist Thomas Henry Huxley. Known as "Darwin's Bulldog," Huxley was a early champion of evolutionary theory and coined the term, "agnosticism." Getty Images.
Regarding agnosticism, LaMaster's view mirrored the biologist Thomas Henry Huxley (who coined the term) as well as the other titan of Midwestern freethought, Robert G. Ingersoll. Conversely, LaMaster's agnosticism under-girded his poor estimation of Christianity, which he believed rested on a poor foundation of "faith." He declared:
To state the proposition more tersely we will say that while Christianity is willing to rest on "faith" alone in arriving at any one or more objective religious truths, agnosticism demands something more—it demands evidence of the highest character before accepting as very truth any kind of a religious belief or dogma. Hence we find Christianity standing for a bare and empty faith and agnosticism for the strongest and the most indisputable of testimony. And so it must be admitted that as between the Christian and the agnostic there is an impassable gulf.
For LaMaster, the use of reason, in conjunction with evidence, provided a person with the clearest picture of the world and their place within it.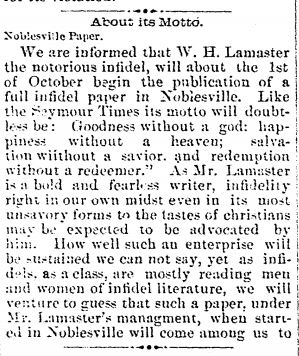 LaMaster promulgated his ideas in a newspaper he planned in the fall of 1881 and began publishing in 1882, called the Iconoclast. First published in Noblesville, LaMaster later moved printing operations to Indianapolis. As the Seymour Times reported, "Mr. LaMaster is a bold and fearless writer, [and] infidelity right in our own midst even in its most unsavory forms to the tastes of Christians may be expected to be advocated by him." LaMaster published his own essays as well as works from the "world renowned orator and noble defender of free thought and mental liberty, Col. R. G. Ingersoll." During his time in the capital city, LaMaster undertook his most enduring publishing effort, at least in regards to historical scholarship. He published a series of answers that Ingersoll had given to four Indianapolis clergy on matters concerning the historical accuracy of Jesus's life, the beginnings of the universe, and pertinent moral questions. LaMaster subsequently printed Ingersoll's Answers to Indianapolis Clergy as a pamphlet form in 1893. Another notable freethought newspaper, the Truth Seeker, reprinted the essays in 1896.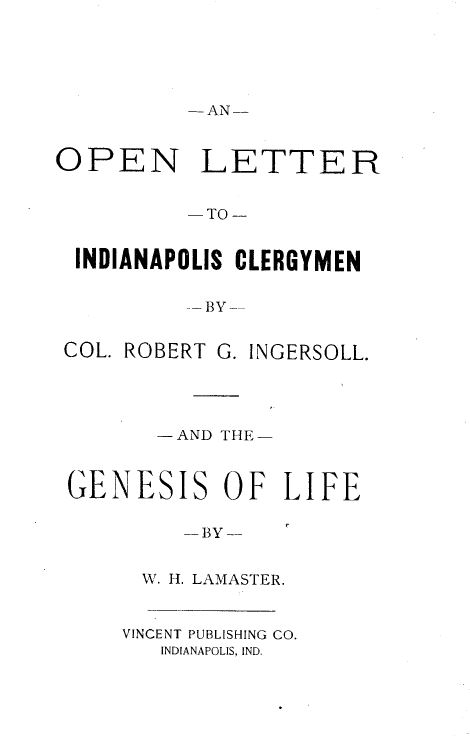 In the introduction to the 1893 version, LaMaster further explained his worldview and the impetus for publishing Ingersoll's answers. He wrote:
It is for the good and well-being of the whole people that a natural religion should take the place of a supernatural one. With the imaginary or idealistic, progressive thought can have nothing to do, since it is the real, and not the ideal, that men and women should crave to find. The world is in need of a religion of humanity—one of philosophy and good deeds—and not one of creeds.

A lithograph of Robert Ingersoll, Iconoclast, March 10, 1883. Indiana State Library.
The idea of a "religion of humanity" recalls the proto-humanistic philosophy of Auguste Comte, who argued for a natural religion based on altruistic impulses and mutual affection among individuals without the need for supernaturalism. LaMaster also published with these letters an essay that he likely prepared for the International Congress of Freethinkers in Chicago entitled, "The Genesis of Life." In it, he argued for a naturalistic explanation for life on earth, noting that "whilst there may be no particular source of life in the universe, there is always to be found a general or universal one from which it may emanate and become an active, moving, and expressive energy in organic nature."
His years publishing the Iconoclast were difficult, especially in a city like Indianapolis, where its community of freethought was "without organization," according to the Index. "With the Iconoclast," wrote B. F. Underwood in the same paper, "existence is yet a struggle, as it necessarily is with all young liberal journals." Despite its success with Ingersoll's Answers to Indianapolis Clergy, the Iconoclast ceased publication in 1886.
Over the next 20 years, LaMaster continued writing and publishing a variety of essays and pamphlets, both in journals and newspapers. In 1896, he published, "The Growth and Magnitude of the Sidereal Heavens," in Popular Astronomy, where he speculated on the existence of extraterrestrial life. "Let us then, in our magnanimity," declared LaMaster, "rise above the compass of our human selfishness and allow our minds to be inspired with the thought that there are other worlds than ours in the starry vaults of heaven, which are the abode of even more sentient beings than ourselves." These ideas would be echoed nearly a century later by astronomer and science communicator Carl Sagan, in his television series, Cosmos.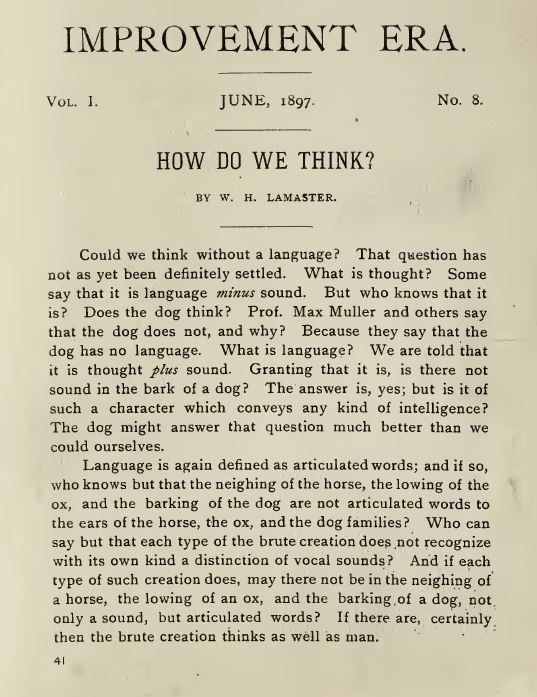 In another piece, "How Do We Think?," LaMaster speculates on the interaction of language and human minds, and whether language is necessary for human thought. LaMaster mused:
If it be true, then, that mind is one of the endowments of matter, even in its organized forms, and one of its functions is that of thinking, it cannot be denied that it will think independently of words actually spoken or disguised . . . . Words themselves presuppose some kind of thought; in fact, words are the natural and legitimate offspring of thought.
Again, LaMaster was extremely prescient about this point. The hypothesis that thought comes before language and that our brains are hard-wired for language has been buttressed by cognitive scientists like Noam Chomsky and Steven Pinker. Despite his training as an attorney, it is evident that LaMaster was a man whose interest in ideas, particularly of the sciences, was particularly well-rounded, especially for the nineteenth century.
Throughout the 1880s and 1890s, he continued writing newspaper columns, including authoring pieces for the Indianapolis News . In one article from February 26, 1895, he wrote about the enduring legacy of American revolutionary and freethinker Thomas Paine. In one of his final columns, written for the August 16, 1907 issue of the Indianapolis Star, LaMaster shared his thoughts about the human soul:
The soul per se, unlike other forms of matter, can have neither growth nor decay. It having therefore its own eternal place and fixity in the universe, it can be neither born nor can it die. And whatever then may be its form or shape it possesses potential being, and one, too, of the highest order.
This nascent spiritualism should not be taken to mean that he had changed his mind. Rather, LaMaster believed that the "soul" was likely an emergent property of humanity's natural place in the universe.
In 1906, he and his family moved to Westphalia, Knox County, Indiana, away from the hustle of Indianapolis, where he continued his intellectual pursuits until the end. LaMaster died on July 28, 1908, at the age of 67. In his obituary from the Indianapolis News, he was described as a "frequent contributor to the Indianapolis News and other Indianapolis newspapers," and was a "vigorous writer." In that last remark, they were certainly correct. In his lifetime, LaMaster had written for numerous newspapers, journals, and pamphlets on a wide-range of topics. His newspaper, the Iconoclast, helped to cement a growing freethought community in Indianapolis. His speculations on science are still noteworthy today. In this regard, LaMaster was a classic, nineteenth century "polymath." In his explorations and religious unorthodoxy, LaMaster contributed much to our understanding of freethought in the Midwest during the late nineteenth century.